STH M16
Compact Daycruiser
| | |
| --- | --- |
| LOA | 5 [m] |
| Beam | 1,85 [m] |
| Engine | 60-130 [PS] |
| Displacement | 650 [kg] |
| Vmax | 40 [kts] |
| Electric drive optional | |
Elegance and Pure Power in a small craft
M16 is a compact glider, characterized by quickness and agility. The Daycruiser is easy to transport via trailer and is perfect for a day trip at the lake, river or lagoon. Upon request the M16 can be outfitted with a motor as well.
One of the many advantages of the M16 has is its stability and tranquility even at high speeds. Although it's most enjoyable in nice weather, the M16 is ready for when the opposite occurs. M16 has an easy to close roof as well as the necessary technical equipment to get you safely through night and rain.
| | |
| --- | --- |
| Passengers | 5 |
| Tank | 80 [l] |
| Draft with engine | 0,45 [m] |
| Weight without engine | 520 [kg] |
STH M22
Powerful Daycruiser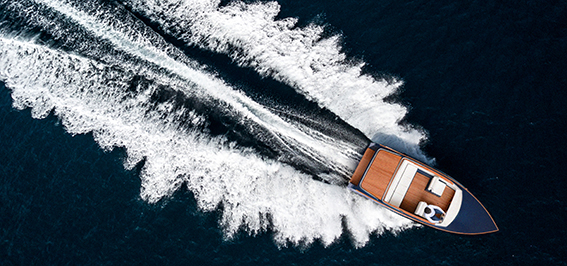 | | |
| --- | --- |
| LOA | 7 [m] |
| Beam | 2,4 [m] |
| Engine | 100-320 [HP] |
| Displacement | 1250 [kg] |
| Vmax | 50 [kts] |
| Electric drive optional | |
Efficient, fast and timelessly elegant
The M22 arrives as a powerful and fast motorboat that leaves an impression. Timelessly elegant and powerful, it is ideal for day trips on lakes, lagoons and coastal areas while providing the necessary comfort for longer trips as well. Upon request the M22 can be outfitted with a motor to suit your needs.
Stability and pleasure at any speed, providing luxury and enjoyment wherever you choose to go. The easy to close roof and the needed protection against night and rain, give you the flexibility to decide how long you want to stay out and enjoy the water.
| | |
| --- | --- |
| Passengers | 6 |
| Tank | 200 [l] |
| Draft | 0,55 [m] |
| Weight without engine | 930 [kg] |